Veteran's Day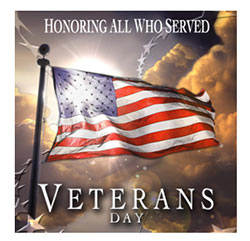 November is a strange month. The nights are longer, the days are shorter and the weather is getting colder. But the beginning of November has another significance other than the change in weather. Veterans Day is celebrated November 11th to honor people have served in the armed forces. This American holiday coincides with other holidays through Europe such as Armistice Day and Remembrance Day, which mark the anniversary of the end of World War One.
The first ever Armistice Day was celebrated in November 11th in 1919 and supported by President Woodrow Wilson. In 1938, a congressional act passed, to make this day an official federal holiday to remember World Peace. In 1945, it was then proposed instead of celebrating just those who died in World War One but for all veterans. On June 1st 1954, Armistice Day officially became Veterans Day.
Americans celebrate Veterans Day in many different ways. The most common way is starting the day with a moment of silence to pay respect to those who have died and survived combat. Another way people celebrate is attending a flag raising ceremony at their local Veterans of Foreign Wars (VFW) halls. Many students and teachers celebrate by singing Patriotic Songs to parents and family members. Volunteers go to Veterans hospitals and shelters and donate their time and money.
If you have a family member who is a Veteran, one of the best ways to honor what they have done for our country is to pamper them. Making a special patriotic breakfast in bed is the perfect way to celebrate. Since it's November make sure they are nice and warm by using an electric blanket. Then make sure they have hot coffee from a gourmet coffee maker. Using a Belgian waffle maker make waffles with whipped cream, blueberries and strawberries for the perfect red, white and blue breakfast.
Veterans Day shouldn't be confused with Memorial Day. Memorial Day is reserved for those who have died in service while Veterans Day honors those who are still with us. Regardless, Veterans Day is a holiday that unites the country and brings a patriotic spirit to everyone.